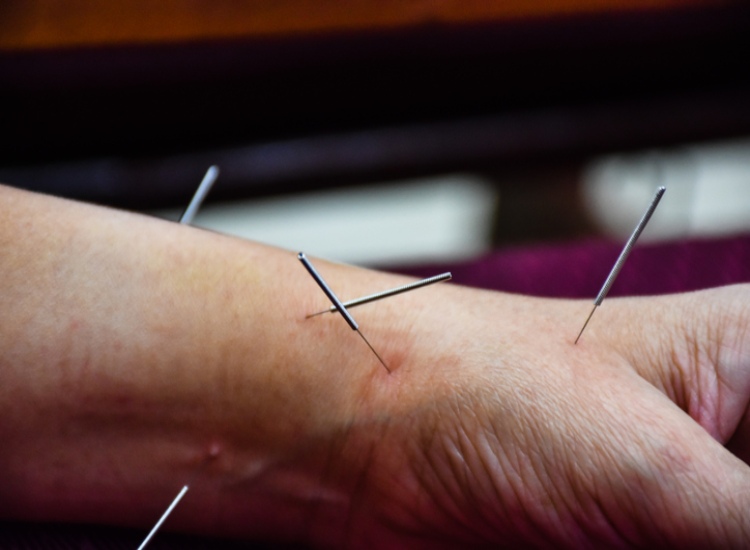 Located in Sherwood Park, AB, All Deep Massage & Wellness Clinic offers a variety of therapies, in a holistic and collaborative approach to health and wellness. One of the treatments we offer is acupuncture, which has proven to be a safe and effective treatment for a wide variety of medical conditions. One of these conditions is tendonitis, a common problem that involves the inflammation of the tendons. This condition can cause pain, tenderness, and swelling, and if left untreated, can eventually require surgery. Tendonitis treatment can involve pain medication, rest, and physical therapy, but research indicate that with acupuncture, tendonitis can be effectively treated without any medication.
Tendonitis is an inflammation of the tendons, sometimes from an injury, but often the result of overuse. Tendons have very little blood flow, so healing can take a long time: sometimes months or even years. Repetitive strain injuries of the tendons often occur because of the work that a person does, and hairdressers, musicians, car mechanics, massage therapists, and people who work for long hours on a computer are susceptible to tendonitis from overuse. The joints most affected by tendonitis are the shoulder, elbow, wrist, hand, and heel. Symptoms include stiffness, pain, and restricted movement of the affected joint.
By using needles at tendonitis acupuncture points, the practitioner can help promote blood flow to the area, bringing much needed oxygen to help the tissue to heal. Acupuncture helps reduce the pain of tendonitis and increase circulation to the affected tendon. The needles are inserted near the source of pain, to improve circulation. In some cases, Chinese herbs are used to promote healthy liver function and strengthen the tendons. Acupuncture can be instrumental in preventing tendonitis from becoming debilitating, so that the patient is not obliged to stop working to avoid aggravating the condition. It is important to note that, while acupuncture can give excellent results in both chronic and acute cases, the longer the condition has been an issue, the longer it will take to resolve.
The National Institutes of Health have backed the benefits of acupuncture for tendonitis since 1997. According to acupuncturists, people with tendonitis often have a primary deficiency in the liver meridian, and excess in the gallbladder meridian. Treatments address the liver meridian and the supporting kidney meridian, as well as being directly applied to painful or sore spots. By using local needle insertion along with systemic treatment, acupuncture encourages the whole body to support the healing process. Sometimes, acupuncture is used along with other modalities, like stretching exercises or massage.
When you book an acupuncture session at All Deep Massage & Wellness Clinic, you will undergo a thorough assessment on your first visit, before your initial treatment. Your practitioner will ask questions about what is happening in your body as a whole, not just the problem area, including questions about your lifestyle, as well as general health and history. Once this information is gathered, your practitioner will design a treatment plan specific to your needs and your unique situation. Other therapies besides acupuncture may be included in this treatment plan, and the frequency and duration of treatments will be determined based on your needs. The beauty of TCM is that it's a holistic approach to wellness, looking at the patient as a whole person, as well as working collaboratively with other health professionals in order to effectively address the issues. Acupuncture is a safe and effective treatment and reduces the need for medications and the risks associated with them.
If you're looking for massage and acupuncture treatment in Sherwood Park, AB, look to All Deep Massage & Wellness Clinic to be your guide on your journey to true health and wellness. Our center is a place of healing and rejuvenation for people of all ages, and we provide a wide range of massage and acupuncture treatments to alleviate pain and suffering from both acute and chronic conditions, resulting in long-lasting relief. Since 2007, All Deep Massage & Wellness Clinic has served clients in Sherwood Park and the surrounding area, and we're dedicated to the health and well-being of our clients. Our therapists are highly trained in anatomy, physiology, pathology, remedial exercise and stretching, nutrition, orthopedic assessment, soft tissue therapy, and hydrotherapy, and we promote ethics and professional conduct as key characteristics of our business. Dedicated to providing exceptional service, we assess each client's individual needs, designing a treatment plan that addresses current conditions and helps prevent them from reoccurring. To learn more about how we can help you feel refreshed, renewed, and rejuvenated, call 780-416-0659.