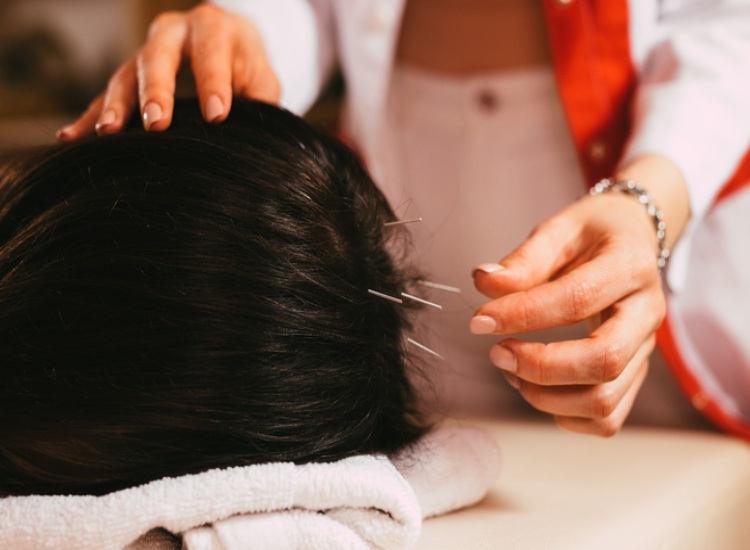 All Deep Massage and Wellness works to help people achieve greater health and vitality, offering a variety of therapies, in a warm, inviting atmosphere that promotes healing. Our treatments include deep-tissue massage, reflexology, cupping, electroacupuncture, and acupuncture, for a variety of health conditions. Many people seek these treatments for relaxation and pain relief, yet are unaware of further ways that these therapies can improve their health. For example, you may not be aware of the use of acupuncture for hair growth, but acupuncture has proven effective in helping with alopecia (hair loss).  Alopecia is a condition estimated to affect about 35 million men and 21 million women in the United States. A condition that triggers the immune system to attack hair follicles, alopecia causes hair to fall out in small patches. In addition to the physical problem of losing hair, alopecia also has psychological repercussions. Treatments often include over-the-counter drugs, prescription medications, multivitamins, supplements, shampoos, and conditioners, as well as hair transplant surgery. Using acupuncture for alopecia offers a drug-free method of improving the condition and alleviating the stress and anxiety that comes along with it.
There are different types of alopecia. Androgenic alopecia involves a thinning hairline or loss of hair at the crown, while alopecia areata leaves patches without hair on the scalp. Alopecia totalis involves the complete loss of hair from the head, and traction alopecia means the hair loss is due to the hair being pulled, as by a tight ponytail. Alopecia can be temporary or permanent, and it can affect the scalp or the entire body. Its causes include heredity, hormonal shifts, medical issues, and aging. Alopecia can have a devastating impact on a person's self-esteem, as well as causing psychological distress, in the form of conditions like anxiety and depression.  Not every type of hair loss can be treated by acupuncture, but for alopecia areata, acupuncture has proven to be effective.
Using acupuncture, alopecia areata treatment can be performed without the use of medications. When used for alopecia, acupuncture reduces inflammation and promotes blood circulation to the scalp. It can also help balance hormones, addressing the hormonal imbalances associated with alopecia. Acupuncture has long been used in Traditional Chinese Medicine (TCM) to stop hair loss and support regrowth, and many health professionals in Western countries use acupuncture to stimulate nerves, muscles, and connective tissue, to increase blood flow and promote healing. Acupuncture must be done by a qualified practitioner, who penetrates the skin with thin, sterile, solid, metallic needles, either by hand or with electrical stimulation. It can help with alopecia because it boosts the immune system and addresses autoimmune factors present with alopecia areata. It also stimulates the hair follicles and encourages regrowth. What's more, acupuncture promotes relaxation, relieving stress, and improving overall well-being.
What can you expect from an acupuncture session at All Deep Massage & Wellness Clinic? Embracing a holistic approach, your practitioner will perform a thorough assessment on your first visit, before your initial treatment. This evaluation will involve what is happening in your body as a whole, not just the problem area. Questions will be asked about your lifestyle, as well as general health and history, including childhood. Once this information has been gathered, and the underlying causes of your alopecia ascertained, the acupuncturist will place very thin needles into the scalp or at other points aligned with the specific issues related to your hair loss. Your practitioner will create a treatment plan, establishing the right frequency and duration for your specific needs. While there may be some minor side effects, including headaches, acupuncture is considered a safe and effective part of a holistic and collaborative approach to healthcare.
If you're looking for massage and acupuncture treatment in Sherwood Park, AB, look to All Deep Massage & Wellness Clinic to be your guide on your journey to true health and wellness. Our center is a place of healing and rejuvenation for people of all ages, and we provide a wide range of massage and acupuncture treatments to alleviate pain and suffering from both acute and chronic conditions, resulting in long-lasting relief. Since 2007, All Deep Massage & Wellness Clinic has served clients in Sherwood Park and the surrounding area, and we're dedicated to the health and well-being of our clients. Our therapists are highly trained in anatomy, physiology, pathology, remedial exercise and stretching, nutrition, orthopedic assessment, soft tissue therapy, and hydrotherapy, and we promote ethics and professional conduct as key characteristics of our business. Dedicated to providing exceptional service, we assess each client's individual needs, designing a treatment plan that addresses current conditions and helps prevent them from reoccurring. To learn more about how we can help you feel refreshed, renewed, and rejuvenated, call 780-416-0659.