Get Your Deep Tissue Massage in Sherwood Park, AB Today!
All Deep Massage Wellness Offers Deep Tissue Massages
When you're looking into receiving a deep tissue massage in Sherwood Park, AB, don't hesitate to contact All Deep Massage & Wellness Clinic's seasoned professionals. For over a decade, we have dedicated ourselves to setting the standard for exceptional health services. We do so by offering beneficial services like cupping and acupuncture, as well as a variety of healing massage therapies. Deep Tissue Massage is one of the many solutions we provide as a natural antidote to our ever-demanding lives. This type of massage focuses on realigning the deeper layers of your muscles and connective tissue. It's also recommended to those people who suffer from chronically tense or contracted areas in the neck, lower back, and shoulders. Deep tissue massage works to physically break down and problem areas, helping to relieve pain in a way that works to restore your range of motion like nothing else can.
How Does Deep Tissue Massage Work?
When you visit our clinic for a deep tissue massage, our team of seasoned massage therapists will talk to you about any specific problem areas. This can be one area or even the entire body. Once we have figured out the parts of the body needing special attention, we will have you lie on your back or stomach, while under a sheet. The area of your body that requires massaging will need to be exposed, though your level of undress is based on your personal preferences. To begin, we'll warm up your muscles using a lighter touch, and gradually begin working on your problem areas. We will use a variety of kneading and stroking techniques with different amounts of pressure to ensure we address the problem areas within the inner layers of your muscles and connective tissue. If you find yourself struggling with chronic aches and pains, consider contacting our team to learn more about how a deep tissue massage could benefit you.
Deep Tissue Massage Benefits
There are many benefits associated with deep tissue massage. In fact, many of our patients who come to us for this type of massage report that it had more of an impact at relieving muscle and joint pain than physical therapy, acupuncture, exercise, and even medication. On top of that, many people report significant improvement in their range of motion after receiving a deep tissue massage. This massage type is a truly innovative solution to chronic pain, as it is also hugely beneficial in curbing the following conditions:
Lower back pain
Recovery from sports injuries, car accidents, falls, etc.
Carpel tunnel and other strain injuries
Limited mobility
Postural issues
Muscle tension or spasms
Osteoarthritis pain
Fibromyalgia
Sciatica
And more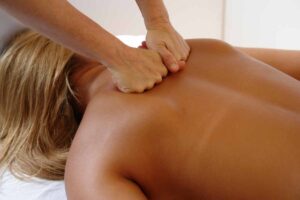 How to Deep Tissue Massage
Our professionals will typically use their fingertips, knuckles, hands, elbows, and forearms to deeply massage the problem areas on your body. At specific points during the massage, you may start feeling a bit of discomfort. Though this is a normal part of effectively addressing the root cause of your joint and muscle tightness, it is always crucial to communicate your comfort levels to your massage therapist. We are here to help you, not hurt you! Though some pain is expected when massaging kinks and tightness out of your body, we never want to put you in a position where the pain becomes unbearable. We encourage all our patients to be open and honest about their pain levels so that we can tailor our massage services to them accordingly. In addition, it is vastly important to only rely on trained professionals for a deep tissue massage. Putting your trust in someone who is inexperienced or lacks proper licensing can further damage to your body, putting you in a worse position than you were before. At All Deep Massage & Wellness Clinic, you can rest assured that you are getting the utmost professionalism with our massage therapists, and we'll go above and beyond to prove it to you.
Book Your Appointment with Us Today!
If you think a deep tissue massage could improve your health and overall lifestyle, don't hesitate to give us a call! We have been the area's premier choice for massage therapy for over ten years, and we're confident we have the solutions to halt your chronic aches and pains. For more information on deep tissue massages, or to book your appointment, please contact us. We look forward to providing you with a lasting solution to body tightness and discomfort.