Get A Prenatal Massage in Sherwood Park, AB
All Deep Massage & Wellness Clinic Offers Prenatal Massages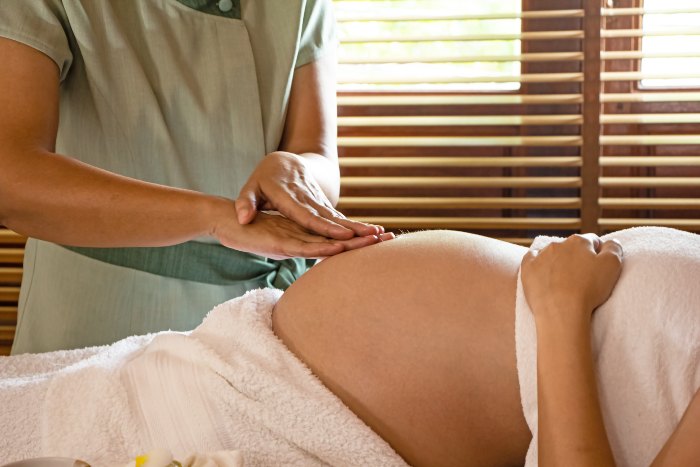 If you're a Sherwood Park, AB resident who is pregnant but still wants to reap all the benefits of our massage services, All Deep Massage & Wellness Clinic is proud to offer prenatal massages. Prenatal massages play an important role in supporting the developmental changes in a woman's body. This massage type is specifically tailored to pregnancy and is shown to provide relief in cases of lower back pain, hip pain, swelling, upper back and neck tension, headaches, and can even help those who are experiencing trouble sleeping. If you're interested in keeping up with a self-care routine throughout the duration of your pregnancy, a safe and relaxing prenatal massage may be the perfect choice for you and your developing baby.
What is a Prenatal Massage?
A prenatal massage is a great way to enhance your prenatal care practices. If you are pregnant, you are likely dealing with everything from morning sickness and tenderness to cramping and fatigue. Not to mention you're housing a growing human within your body. Chances are, you would benefit from a healthy way to reduce stress and promote overall wellbeing. That's where we come in. Through this prenatal massage treatment, our specialists can help to relieve many of the discomforts often felt during pregnancy. Through gentle but strategic prenatal massage techniques, we reduce built-up stress and tension within the joints, promoting blood flow and lymph circulation that works to relax the nervous system and even relieve any anxiety or depression caused by hormonal changes.
What Can I Expect from a Prenatal Massage?
When you book your prenatal massage with our seasoned professionals, we ensure the utmost care for mom and baby. Your comfort is our priority. You will be asked to lie on your side, and we will support your body with soft cushions to hold you in place and take any strain off your lower back and pelvic area. Depending on how far along you are in your pregnancy, we will utilize prenatal massage techniques that focus on our relaxation as well as reflexology massage types. Women with normal, low-risk pregnancies can benefit from this variety of massage techniques. Though, in order not to over-stimulate neither mother nor baby, these prenatal massage treatments are offered at a maximum of 60 minutes.
Prenatal Massage Benefits
A prenatal massage for pregnant women offers several benefits, helping to relieve many of the common symptoms pregnant women are prone to dealing with. If there's a persisting ache or pain that you've been experiencing as a result of pregnancy, we're sure to let our seasoned massage professionals know, and we'll do everything we can to address it for you. Additional prenatal massage benefits we think expecting moms should know about include the following:
Prenatal massages are known to significantly curb headaches since this massage technique addresses the head, neck, and shoulders. In addition, all massage-types work to reduce stress levels, which decrease the chance of developing migraines and tension headaches by relaxing trigger points and muscle spasms.
Many pregnant women experience excess muscle tension that's created by carrying the extra weight of a baby. A prenatal massage can help relieve this built-up tension and discomfort by encouraging blood flow to the afflicted areas. In promoting this circulation through our prenatal massage technique, we can help provide more nutrient-rich oxygen to these areas. Additionally, we can stimulate the body to increases the flow of lymphatic fluid, which works to rid the body of toxins and metabolic waste.
A prenatal massage addresses common feelings of mood swings and fatigue that most pregnant women experience as a result of hormonal and bodily changes. These dramatic changes are enough to throw off a pregnant woman's entire body, whereas a therapeutic massage will help to bring your body back to a balanced state.
Massages of all types are hugely beneficial when it comes to releasing serotonin, endorphins, and dopamine – also known as the body's natural anti-pain or "feel good" chemicals. Since pain and depression can both be common symptoms pregnant women experience, a prenatal massage can help manage these more adverse effects of pregnancy without the need for medication.
Contact Us to Book Your Prenatal Massage in Sherwood Park, AB!
If you are a pregnant woman in Sherwood Park, AB looking to get the most out of a prenatal massage, don't hesitate to reach out to the pros at All Deep Massage & Wellness Clinic. We have been helping women through their pregnancy symptoms for a decade, and we look forward to providing you and your developing baby with the same exceptional service and care. Contact us today for more information on all the benefits of our prenatal massage or book an appointment to see for yourself!